RNW Services…
The Cabinet Shop
We pride ourselves on our reputation for creating some of the finest custom cabinetry in the Bay Area. Our full service custom cabinet shop has crafted just about every type of furniture imaginable. From simple platform beds and bookcases to highly detailed entertainment units and home offices, to intricate kitchens and master baths. Working with a broad range of wood types and material choices, our master craftsmen hand-select each piece of wood and then, using traditional tools and techniques, transform that wood into unique, one-of-a-kind pieces.
From individual wood selection to custom finishing techniques, every cabinet produced in the RNW cabinet shop acquires not only the look of a precious heirloom, but the value, too. Most importantly, every piece of cabinetry that leaves the RNW cabinet shop leaves with the expectation that both its beauty and quality will pass the test of time and be worthy of being handed down from generation to generation.
The process always begins the same way: A layout for the item to be built is created, a cut-list is prepared, materials are ordered, the wood is cut on a table saw and then the piece and all of its intricate detailing is crafted and assembled on the bench.
A bathroom vanity takes shape.
A Master Craftsman sawing some paint grade poplar that will be transformed into a master bath vanity for the residents of a San Francisco highrise.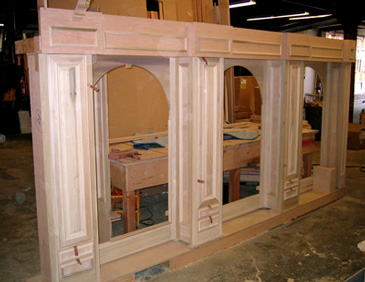 The vanity top will feature three arched mirrors and four discreet medicine cabinets housed in the columns that sit atop four corresponding rectangular shaped drawers.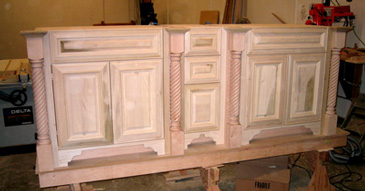 The vanity base includes a number of intricate details including raised panel doors, the use of scalloping at the unit's base and vertical spindles to add visual interest to the front of the unit.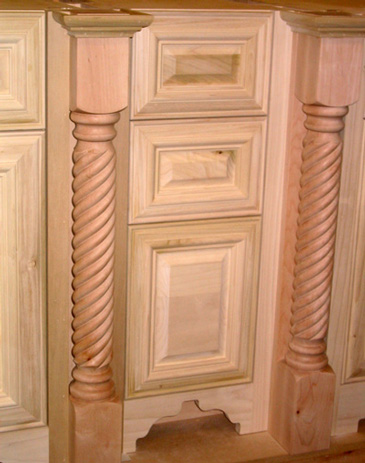 A closer view of the scalloped base, side spindles and raised paneling on the drawers.
RNW's talented cabinet makers takes great pride in every piece they build.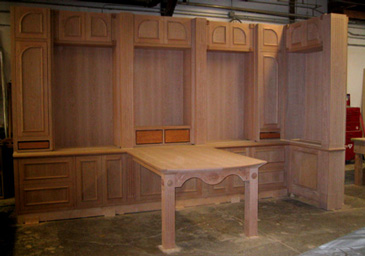 A home-office wall unit for a San Francisco residence. Made from Cherry Wood, the ornately detailed desk area incorporates features such as a hidden desk drawer, built-in pull out file cabinets, and unobtrusive shelving areas for books and collectibles.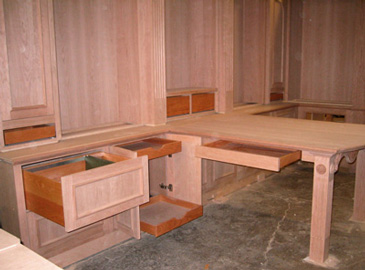 Organization abounds in the unit. Unlike most mass produced units, this one doesn't require the homeowner to choose between beauty and function.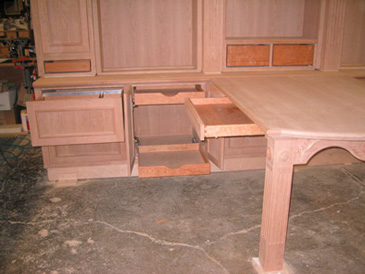 Another view of the storage capacity of the wall unit.

A scalloped facia with carved medallions and fluting on the desk legs add interest to this furniture piece for the Study.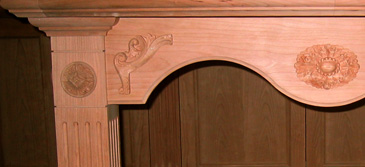 A closer look at the detailing utilized on the desk portion of the unit.